910 Gladstone Avenue, Ottawa


Photo of Lois by Bill Blackstone

Event Photos
©Photos by Lois Siegel
"Two"
Directed by John P. Kelly
Opens Friday, January 16, 2015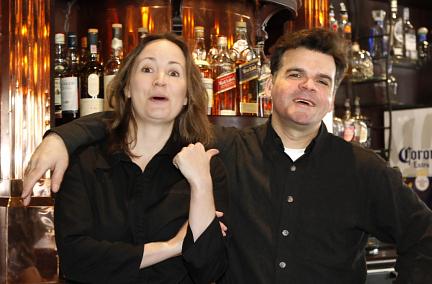 Michelle LeBlanc and Richard Gélinas
Absurd Person Singular
Directed by John P. Kelly
Photo by Andrew Alexander
Theatre of the Most Delightfully Absurd
2013
By Lois Siegel
If you love theatre, "Absurd Person Singular," directed by John P. Kelly is a must see. Keep in mind that the writer is the award-winning British playwright Alan Ayckbourn. His brilliant comedy "How the Other Half Loves," was the play that opened the Gladstone Theatre in 2008. Capital Critics Circle named Kelly the Best Director (Professional) for this production. And if you saw the Phoenix Players "Bedroom Farce" by Ayckbourn last year at the Gladstone, you know what lies in store.

"Absurd Person Singular" - Three kitchens, three couples who can't stand each other, three chaotic nights over a period of three Christmas Eves.
You won't stop laughing.

Their lives intertwine. There's the awkwardness of social climbers and the pretentiousness of those who have already risen in their own minds to the proper social standing. When they come together there are certain social rituals that must be followed, but there's a difference between what people say and what they really think.
And fortunes change in this comedy of manners.
The play could be described as a tragi-comedy because the characters are too busy focusing on their own concerns to care about anyone else. As Ayckbourn explains, "Dramatic counterpoint - using a deeply serious action against a background of comic events."
Some characters lack social skills, another admits to adultery, one tries to commit suicide, another is snob who loves to drink. We soon realize that people become trapped in their lives, but Ayckbourn makes us laugh at other people's pain.
Director John P. Kelly explains, ".What makes the audience laugh, even though another character is trying to end her life. Well it is not simple laughter. It is a dark, dark piece. How can we laugh at a woman trying for 45 minutes to kill herself, or at an alcoholic in the throes of despair, or at a marriage crumbling under the pressures of infidelity? But the genius of the writer is that he makes us do so, and it is not always easy laughter. This is a play to make you laugh till you cry."
Why is Ayckbourn so successful with his comedy? Kelly says, "I suspect it is something to do with his ability to have us see little bits of ourselves in the people he creates, and to make us laugh at the sheer absurdity of much of how we lead our lives."
Ayckbourn is brilliant in pushing the absurd. The finale of the play is a pure circus of comedy. You won't stop laughing.

The acting is excellent. The use of the space and movement of the actors is masterfully orchestrated by Kelly. Well-timed, off-stage sound adds another dimension to the creation of a extremely entertaining experience.
"The Farndale Avenue Housing Estate Townswomen's Guild Dramatic Society's Production of
'A Christmas Carol"

Chris Ralph and Kristina Watt

©Photo by Lois Siegel
John P. Kelly

Kelly arrived in Canada from Ireland in 2004, and the word
is quickly spreading that he's the best director in Ottawa.

He is a freelance theatre director and workshop instructor.
Kelly worked for RTE, the Irish equivalent of the CBC,
and as a Radio Drama producer/director,
as well as a Managing Editor of Features and Arts.

He moved to Switzerland (1994), where he worked
with the European Broadcasting Union as Head of Specialized Programming.
Kelly is founder member of the Irish Association of Drama Adjudicators (ADA)
and a member of the British Guild of Drama Adjudicators.

Directed by John P. Kelly
2009
Theatre Gone Mad
Corsets, Garter Belts and Boxer Shorts
by Lois Siegel

There's nothing like a good, romping comedy, full of surprises and chaos. That's The Gladstone theatre's opening play this season: "Noises Off," written by the award-winning British playwright Michael Frayn and directed by Irish director John P. Kelly. The play is a hoot.
"Noises Off" follows the cast and crew of a British sex farce called "Nothing On." Tensions mount as relationships on stage and behind-the-scenes go sour until there's more drama brewing backstage than on. "It's a play within a play and a parody of farce," Kelly explains. "Someone always seems to take off something. In this one, a girl plays most of the play in her underwear, and three male characters take their trousers down. One lady wears a corset, garter belt, black stockings – every man's dream," he smiles. "The three men show varying shades of boxers."
The play is in three parts. First you see a rehearsal where everything goes wrong, and you hear the director shouting to his actors to remember their lines and movements. There's a lot of talk about sardines and whether they should be on or off stage. For part two, the innovative, massive set turns, and you see the action again, but from backstage… where everything goes wrong. As well, the intrigue of the actors' personal lives begins to interfere with the performance. In part three, you see the play again as it is performed before an audience. This time there is complete mayhem as everything goes wrong. You won't stop laughing.

©Photo by Lois Siegel
Chris Ralph
A tremendous challenge was creating the set - a two-story English manor that comes apart and rotates 180 degrees for the second act. "It is very large for this theatre, Kelly says. " The whole thing has to be taken apart at the first intermission and built up again back to front. Then the same process is in reverse for the third act." Stay for the set change. It's a great feat to watch.
Up-and-coming set designer, Ivo Valentik, built this impressive set that works on several levels, complete with 15-foot walls, 3 staircases and over 8 doors and windows. "It's a technical nightmare," Kelly insists.

The acting is terrific. The large cast features Al Connors, John Koensgen, Michelle LeBlanc, Margo MacDonald, Patrick MacFadden, Steve Martin, Chris Ralph, Colleen Sutton, and Jenn Vallance.
Steve Martin is outstanding as Garry, his role in "Nothing On" and Roger the actor performing in the play. His timing is excellent, his gestures hilarious, and his acrobatics astounding. One fears he will be completely black and blue by the end of the run.

©Photo by Lois Siegel
Steve Martin
The only weak point is the final curtain call where the cast continues to romp, appearing and disappearing in the multi-leveled set. By this time, we've already experienced enough coming in and out of doors. We want to settle down. More confusion doesn't add to our experience.

"Noises Off" is a delightful romp in a theatrical world that goes haywire.
Its success is most likely due to the fact that it reflects much truth about the real world with its human foibles, loves and desires.
Director John P. Kelly is a master of comedy.
The Gladstone theatre opens its new season with a hit, repeating their first season when Kelly directed Alan Ayckbourn's "How the Other Half Loves," a brilliant production. Kelly's a genius at creating the most insane scenes. One wonders if he learned this across the sea, back in Dublin where he was born. He came to Ottawa just over five years ago because his partner, Colette, was offered a job here. "I created my own company, working in pubs, clubs, and anywhere I could get," Kelly says. "Since then, the people and the artists of Ottawa have been wonderful to me."
"Being a theatre director is not easy. It entails lots of risks, but that's part of the excitement … to make something out of nothing… to make words come alive," he insists. " The challenge is always to continue to produce high quality material for a very discerning Ottawa audience. There is, luckily, a very high standard of acting here, so that helps enormously."
Kelly's company, SevenThirty Productions, dedicated to Irish theatre, will present "Shining City" written by Conor McPherson at Arts Court, November 17-29, 2009.

Tickets for "Noises Off" are on sale at the Gladstone box office, 910 Gladstone Avenue, 10 a.m. - 4 p.m. Monday - Friday: $35 Adults, $28 Seniors and $20 students. Season subscription packages are also available. For more information or to reserve your seat, call (613) 233.4523 (GLAD), email: info@TheGladstone.ca

The Gladstone Theatre
Directed by John P. Kelly
2011

Theatre review: Popular Irish comedy
"I Do Not Like Thee, Dr. Fell," pokes fun at group therapy
A riotous journey of self-discovery

Photo by Lois Siegel
Richard Gélinas, Tim Oberholzer, Kelly Rigole, Robin Guy, Kathi Langston
"The Radio Show"

Courtesy of The Kitchissippi Times
Charlotte Rose Hayes, Laura Thompson, Lori Jean Hodge
The Gladstone Opened with Grandeur
Thursday, September 11, 2008



Steve Martin, Owner, The Gladstone
Diane Holmes, City Councillor Somerset Ward

Ribbon-Cutting Preceded the Opening Night of
John P. Kelly's


New Life in Centretown
The Gladstone Opens to Rave Reviews
Capital Critics Circle
Best Director (Professional)
Ottawa director John P. Kelly for his production of
Alan Ayckbourn's "How the Other Half Loves"
for Gladstone Productions
at The Gladstone

Andy Massingham

Teri Loretto, Andy Massingham

Teri Loretto, Andy Massingham

Alix Sideris, Pierre Brault, Andy Massingham

Andy Massingham (standing)
Teri Loretto, left; Pierre Brault, right

Michelle LeBlanc, Kris Joseph (standing)
Pierre Brault (foreground)

Kris Joseph, Teri Loretto, Michelle LeBlanc (foreground)
Alix Sideris (standing)

Andy Massingham, Teri Loretto, Kris Joseph
Michelle LeBlanc, Pierre Brault, Alix Sideris

©Photo by Lois Siegel
Pierre Brault, Teri Loretto, Andy Massingham, Alix Sideris

Graphic Design by Carol Porteous

Director John P. Kelly

The Ottawa Citizen

CBC Radio

©Photo by Lois Siegel
Kris Joseph (standing), Teri Loretto, Michelle LeBlanc

Director John P. Kelly and his wife Colette

Steve Martin
Gordon D. Weima, Design Builder of the Gladstone

Steve Martin with his wife Marilisa
John Collins, Manager, The Gladstone

Judi Pearl, wife of actor Pierre Brault and
Producer Sleeping Dog Theatre
Janet Irwin, Freelance Theatre Director, Dramaturge, and Writer
Amanda Lewis, Artistic Director, School of Speech & Drama and her husband Tim Wynne-Jones, Writer

Maria Pellegrini, Opera Singer
Steve Martin

Penny Collenette, Federal Liberal Candidate Ottawa Centre
Yasir Naqvi, M.P.P. Ottawa Centre
Diane Holmes, City Councillor Somerset Ward

Tyrone Benskin, MP
Former Artistic Director, Black Theatre Workshop, Montreal

Derick Fage
TL Rader
Rogers TV Daytime Hosts

Ottawa Senators Hockey Players Dean McAmmond
and Shean Donovan
Pose for Citizen Writer/Photographer Caroline Phillips
"Around Town."

Shean and Teresa Donovan
Marilisa and Steve Martin
Dean and Karla McAmmond

Ann and Ron Hunt

Judith Wightman

Judith Wightman
Interior Design Consultant

Glamourous
Back to a Bygone Era

John P. Kelly, Director
Jenna Majkot, Lighting Technician

Lena Triebe, Stage Manager
R. J. Mills, Sound Technician
Doubt
Playwright: John Patrick Shanley
Directed by John P. Kelly

February 25 - March 14, 2009
A story of suspicion and moral uncertainly



©Photo by Lois Siegel
Sister Aloysius Beauvier (Mary Ellis)
Father Brendan Flynn (Kris Joseph)

In 2005, Shanley's play Doubt: A Parable was awarded
the Pulitzer Prize for Drama
and the Drama Desk Award and Tony Award for Best Play.
In 2008, Shanley directed a film version of
Doubt, starring Meryl Streep, Philip Seymour Hoffman
and Amy Adams.

For his script for the 1987 film, Moonstruck,
Shanley won the Academy Award for Best Original Screenplay
and the Writers Guild of America Award for Best Screenplay Written Directly for the Screen
Rabbit Hole
Janet Irwin, Director
Playwright: David Lindsay-Abaire



Standing: Michele Fansett, Brie Barker, Maureen Smith
Sitting: Nancy Kenny

The Gladstone Theatre
November 24-26


Photo by Lois Siegel

Ellen Clare O'Gallagher, President of Phoenix Players
Jo-Ann McCabe, Director, "I Remember Mama"

Photo by Lois Siegel
Contact
Lois Siegel