Marie Déziel
Marie Déziel comes from a musical family. She grew up listening to Shostakovich and Mozart while playing with her Lego. By age 10 she could play the piano by ear and had received her first accordion. She now plays the violin, the viola, accordion and the piano with several groups. She previously played the violin and the viola with Parkdale and Kanata Symphony Orchestras in Ottawa. Her passion for musical instruments recently led her to take up the study of the hurdy gurdy, which is used in the folk tradition of France and also in medieval and renaissance music. Marie Déziel is a former Spanish, French, and music CEGEP (College) teacher.

Robert Coutu
From a young age, Robert Coutu explored different styles of popular and traditional music. He has performed with a variety of bands at special events and recording sessions. Self-taught, Robert plays many instruments, including the violin, mandolin, guitar and harmonica.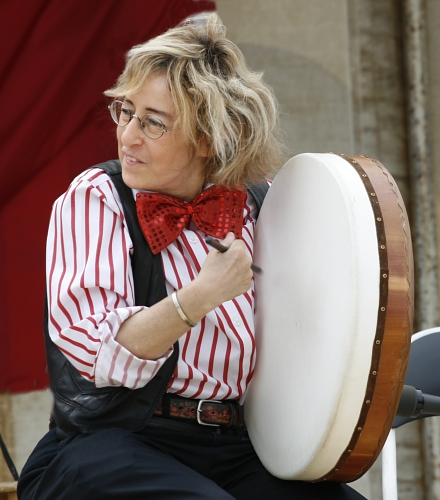 Photo by Paul Jean
Lois Siegel, Bodhran
Lois Siegel is a filmmaker, casting director, photographer, writer, and musician. When she isn't playing the bodhran, she runs Siegel Entertainment, representing her bands and other entertainers. Her documentary films cover a wide range of subjects: "Baseball Girls" (women who play softball and baseball), "Lip Gloss" (female impersonators), "Strangers in Town" (albinism), and "Stunt People" (The Fournier Family performing stunts for films)Lois also plays the fiddle, spoons, bodhran, The Ugly Stick, dancing marionettes, percussion, and the washboard.